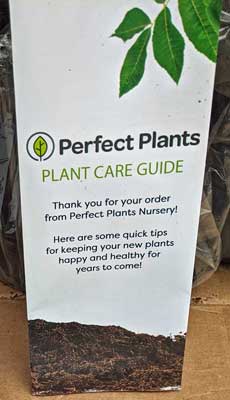 What we got was impressive.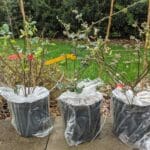 Perfect Plants Nursery, www.myperfectplants.com, entered our online nursery rankings for the first time this month and debuted at #8. Their site looks great, so we decided to place an order & see what we got.
Perfect Plants offers a pollination 3-pack of blueberry bushes. 1-gallon containers.  $49.95 + shipping. When we ordered, they were running a sale. We ended up paying a total of $51 for the 3 plants, including shipping.
Navigating their site was pretty easy.  A few minor things but nothing alarming. Some of the products listed were out of stock but it looks like they have roughly 200 different trees, shrubs & perennials for sale.  We even saw some 5-gallon sizes at extremely reasonable prices.
The product pictures they show are amazing.  The order process was pretty simple. They do offer a calendar where you can pick a ship date which is pretty cool. Their shipping costs are a bit high but when we ordered they had a coupon for 30% off blueberry bushes.
I ordered on a Thursday, the plants were shipped the next day and showed up at my door on Monday.  I've traded a few emails with the folks at Perfect Plants and they do seem to get most orders out right away.
Keep in mind if you're a 5-day transit time from their Florida location, they will only ship the plants on a Monday. As an example, if you're in Seattle and order on a Wednesday, they will ship it the following Monday.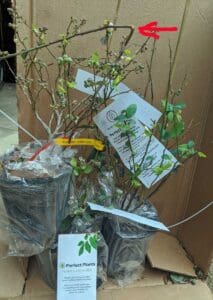 We've posted a gallery of the un-boxing & plants below. The packaging wasn't the best we have seen or the worst.  All 3 blueberry shrubs in one box with one on top of the other two. One branch was broken but just a minor cosmetic issue.
Perfect Plants is also only the second nursery we ordered from without any of the dreaded industrial staples that you have to pry out. That made opening the box a lot easier.
Perfect Plants is located in North Florida but it is so early in the season (March 19th) when we ordered, we weren't sure how developed the shrubs would be.
What we got was impressive. There were the blooms & berries already on the plants!  Holy cow, that was pretty amazing. I guess that warm Northern Florida climate really gets things growing.
Being mid-March the maturity of the shrubs isn't anything like you would buy in May but I was impressed.  They were healthy, well developed root systems and did I mention… they had berries!
There was even an informative, professional looking insert with a detailed planting & care guide.
If you ever need planting and care information, Perfect Plants has one of the most extensive grow guides I've seen online.  You can find it here https://myperfectplants.com/grow-guides/
Overall, we were impressed and will definitely order from them again.
Latest posts by Show me the green
(see all)