Blue Princess Holly for sale from top rated online plant nurseries. Prices are updated daily. Clicking on a 'Shop Now' button will open a new tab to the website listed.
Description
This is the Holly For Loads of Winter Red Berries
Blue Princess is a popular holly for the abundance of winter red berries they produce. They do require a male variety to pollinate the flowers in order to produce fruit. Depending on spacing, usually 1 male variety to every 4 female varieties planted works well. Blue Prince is a perfect male variety for ensuring plenty of berries.
Blue Princess is also one of the cold hardiest holly varieties, withstanding temperatures as cold as -30 degrees. Growth rate for Blue Princess is slow, about 6 inches per year. Blue Princess Hollies  can also handle partial shade, something most other hollies struggle with.
Blue Princess Holly Plant Facts
| | |
| --- | --- |
| Botanical Name: | Ilex x meserveae 'Blue Princess' |
| Average Height: | 10 – 15 feet |
| Average Width: | 8 – 10 feet |
| Sunlight: | Full to partial sun |
| Soil Conditions: | Adaptable |
| Drought Tolerance: | Poor |
| Grow Zones: | 5 to 9 |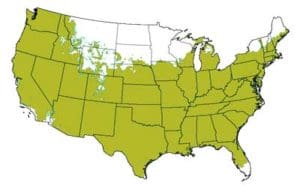 USDA Hardiness Zones 5 to 9
Blue Princess Holly Planting and Care
They can handle wet soil BUT make sure it drains well. They will rot if left with constantly wet roots.  They are also adaptable to most soil types. Dig your planting hole twice as wide as the container and mix about half your soil with a good quality top soil. Plant in area where they can get a minimum of 3 hours of sunlight per day on average. Make sure you water frequently, especially after planing. Blue Princess Holly shrubs are not drought tolerant.
Pruning Blue Princess Holly is pretty simple. They have a natural, upright growth habit making the need for pruning rare. If you do want to prune them back a bit, do so in early spring, before new growth emerges.
About Our Price Comparisons:
Since 2010 we have worked for 4 of the largest online plant nurseries. We have also visited (to evaluate) or ordered from over 50 online garden centers. We strive to compare prices from online nurseries we have experienced send the highest quality plants at the lowest prices.  Keep in mind that we may receive commissions when you click our links and make purchases. However, this does not impact our reviews, price comparisons, or the price you pay. We try our best to keep things fair and balanced, in order to help you make the best choices.