Carissa Holly shrubs for sale from our top rated online nurseries. Prices are updated daily. Clicking on a 'Shop Now' button will open a new tab to the nursery listed.
Description
Buy Carissa Holly Online
Small Evergreen Shrub Perfect for Borders or Short Hedge
Carissa Holly, also spelled sometimes as Carrisa Holly, is super easy to grow.  It is a compact, rounded shrub.  At a mature height of just 2 to 3 feet, It rarely needs any pruning.   Spring blooms have a great fragrance but Carissa Holly does not provide nearly as many of the red winter berries as other holly shrubs.
Carissa Holly is a perfect choice for a low-maintenance small hedge, as a border along a walkway or driveway. It can also be used as a specimen in almost any smaller space. They also do well in containers.
| | |
| --- | --- |
| Botanical Name | Ilex cornuta 'Carissa' |
| Mature Height | 2 – 3 feet |
| Mature Spread | 3 – 4 feet |
| Soil Type | Well Drained |
| Sun Exposure | Full Sun, Partial Sun |
| Growth Rate | Medium |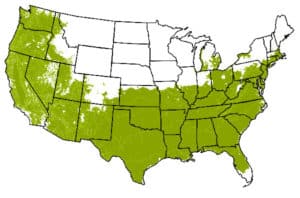 USDA Hardiness Zones 6 to 9
Frequently Asked Questions
How big do Carissa hollies grow?
Carissa grow to about 3 feet tall and 3 to 4 feet wide.
How and when should you prune Carissa holly.
Carissa rarely need pruning. If you just want some minor pruning to keep it's shape, prune in late winter, before new growth emerges. A slow-release fertilizer at the top of the root ball will help in early spring.
About our price comparisons:
We have either worked for, visited (to evaluate), or ordered from over 50 online garden centers. We strive to compare prices from online nurseries that we have experienced and send the highest quality plants at the lowest prices.  Keep in mind that we may receive commissions when you click our links and make purchases. However, this does not impact our reviews, price comparisons, or the price you pay. We try our best to keep things fair and balanced, in order to help you make the best choices.