Description
Where to Buy Mountain Fire Pieris Online
Unique Flowering Evergreen Adds Drama & Various Colors
Mountain Fire Pieris (Pieris japonica 'Mountain Fire'), also known as Japanese Andromeda Mountain Fire, thrives in partial shade. New growth starts with various tones of red. Pink to white clusters of bell-shaped blooms dangle down the shrub in spring. Blooms can last for a month and have an amazing fragrance. Shade-loving, drought tolerant, and deer resistant. Makes a unique foundation shrub.
Considered an ornamental evergreen, Mountain Fire will add year-round amazing color to your landscape.
Fragrant clusters of pinkish-white flowers form in dropping chains that dangle from the plant. Looking similar to Lily of the Valley, these blooms on Pieris Mountain Fire will attract pollinators.
| | |
| --- | --- |
| Botanical Name | Pieris japonica 'Mountain Fire' |
| Type | Broad-Leaved Evergreen |
| Mature Height | 6 – 8 feet |
| Mature Spread | 6 – 8 feet |
| Sun Exposure | Partial Shade |
| Soil Type | Well Drained |
| Growth Rate | Medium |
| Flower Color | White |
| Foliage Color | Red |
| Fall Color | Evergreen |
| When To Prune | After Flowering |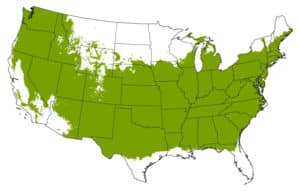 USDA Hardiness Zones 5 to 8
Frequently Asked Questions
Is the Mountain Fire Pieris an evergreen?
Yes. The Mountain Fire Pieris is a unique, and easy to care for evergreen.
Can the Mountain Fire Pieris be planted in the shade?
The Mountain Fire Pieris can be grown in shade, however it will not flower as well. They do best in full or part sun.
About our price comparisons:
We have either worked for, visited (to evaluate), or ordered from over 50 online garden centers. We strive to compare prices from online nurseries that we have experienced and send the highest quality plants at the lowest prices.  Keep in mind that we may receive commissions when you click our links and make purchases. However, this does not impact our reviews, price comparisons, or the price you pay. We try our best to keep things fair and balanced, in order to help you make the best choices.