Taunton Spreading Yew for sale online from our top rated online nurseries. Prices updated hourly.
Description
Taunton Spreading Yew For Sale Online
Shade Loving Yew That Spreads Out to 4 Feet Wide
Taunton Yew is commonly referred to as a spreading Yew plant. This versatile shrub is pretty easy to grow & resistant to both insects and diseases. Once it's established it is drought tolerant, deer resistant, salt tolerant (great for coastal areas). This Yew groundcover is excellent for filling under large trees and other shady areas.
Grows in Full Shade or Full Sun
Easy Care Evergreen
Four Season Interest
Extremely Versatile
Tolerant to Both Heat and Cold
Resistant to Winter Burn
| | |
| --- | --- |
| Botanical Name | Taxus x media 'Tauntonii' |
| Foliage | Evergreen |
| Mature Height | 3 – 4 feet |
| Mature Spread | 4 – 6 feet |
| Soil Type | Widely Adaptable |
| Moisture | Moderate |
| Sun Exposure | Full Sun, Full Shade, Partial Sun |
| Growth Rate | Slow |
| Grow Zones | 4 through 7 |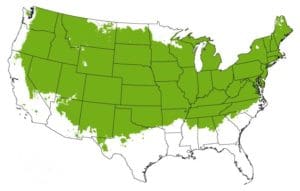 USDA Hardiness Zones 4 through 7
Taunton Spreading Yew Frequently Asked Questions
Are Yew fast-growing?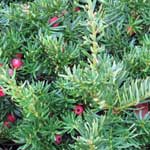 In general, yew are considered slow growing. Grown in shady area, expect roughly 3 to 6 inches o ne growth per year.
When is the best time to prune a spreading yew shrub?
This yew isn't usually pruned. If you want to prune it to maintain a certain form, it is best to do it summer. July & August are the best months.
How wide do spreading yew get?
Cephalotaxus Spreading Yew gets up to 6 feet wide and about 3 feet tall.
Is a spreading Yew shade tolerant?
A spreading yew can grow in sun and shade. They are traditionally slow growing, especially in mostly shady areas.
About Our Price Comparisons:
Since 2010 we have worked for 4 of the largest online plant nurseries. We have also visited (to evaluate) or ordered from over 50 online garden centers. We strive to compare prices from online nurseries we have experienced and send the highest quality plants at the lowest prices.  Keep in mind that we may receive commissions when you click our links and make purchases. However, this does not impact our reviews, price comparisons, or the price you pay. We try our best to keep things fair and balanced, in order to help you make the best choices.