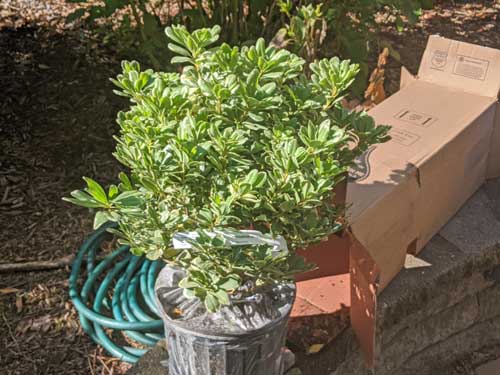 Online nursery PlantsByMail.com has been around since 2003. They are owned by one of the largest growing operations in the country. It doesn't seem that they put much work into the retail nursery website until the past year or so.
They are consistently in the top tier among the 25 online nurseries we rate and review. You can read the complete Plants by Mail review here. So, we decided it was time to place an order and see what we get.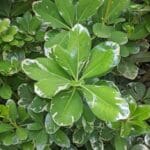 We have a hedge row of evergreen Variegated Pittosporum along the back of our house and one recently died. So that's what we decided to buy from PlantsbByMail.com
Variegated Pittosporum is also known as Japanese Mock Orange. Popular in the south, Variegated Pittosporum is rated for grow zones 7 through 11. It is a pretty fast-growing evergreen with unique foliage and a citrus aroma flower in spring that is amazing. We keep ours trimmed to about 5 feet tall & wide.
Plants by Mail's pricing is great! We bought a #3 container for $34.98. Just for comparisons, another one of our other top rated nurseries, Fast Growing Trees offers a 1-gallon Variegated Pittosporum for $29.95.
Our total cost, including shipping, was $35.97. We had an additional $5 discount for signing up to their email list.
We ordered on the Thursday before Labor Day Weekend. It shipped the following Tuesday and arrived 1 week after ordering on the following Thursday.
Pictures are below. Securely packaged. A bag with a tie string over the container to keep most of the dirt from falling out. None of the dreaded industrial staples to pry out.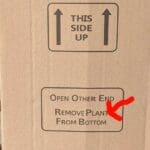 As my Dad always said; if all else fails, read the directions. After opening the top & scratching my head wondering how to get the plant out, I noticed the box printing, remove plant from the bottom.
Great looking specimen. Very happy with the plant we received. Gave it a good drink of water and will plant it this weekend as soon as I finish digging out the stump of the one that died.
Just a couple of pretty minor concerns.
We never received an email order or ship confirmation email.
We asked about both using the contact us form on their website but never got answers.
The plant itself was not rooted in very well in the container. It's a great looking plant, just the root system is a little small for the size container. It's almost like the had recently potted it up into the larger container.
Just want to emphasize that these are not things that would keep us from ordering from them again. They seem to be putting an effort into improving their retail website and are operated by a very reputable wholesale growing operation.  They're worth checking out.
Plants by Mail Unboxing Pictures
Latest posts by Show me the green
(see all)