They're back! Variegated Shrubs – Back to the Future! 
It was less than 10 years ago you would be scorned for having evergreen shrubs with yellow & gold foliage on in your landscape.
For plants, including evergreen shrubs, variegated shrubs mean the leaves have different colored segments. According to the all-knowing Wikipedia, variegated leaves rarely occur in nature.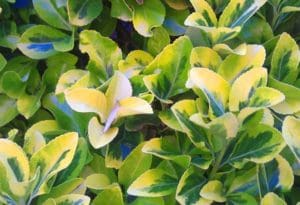 The yellow hues of variegated evergreens, such as the Golden Euonymus, were over-used by landscapers during the last housing boom in the early 2000's. This led to 'expert' landscape designers telling us that yellow was out as well as variegated shrubs. 
Landscape designing is similar to the fashion industry in that trends tend to re-circulate. (I'm still waiting for leisure suits to make a come-back!)
Variegated evergreen shrubs have become in vogue again. Part of the resurgent popularity is because of the introduction of new color combinations and the contrast they can provide for a lot of different places in your yard. They also come in many different sizes and shapes. 
Here are a few of the more popular variegated evergreen shrubs:
Lowest prices for each variegated evergreen shrub listed are updated daily.
So, as you start to plan for your fall planting landscape needs, consider adding a little more color to your foundation or border areas. Variegated evergreen shrubs will do just that.