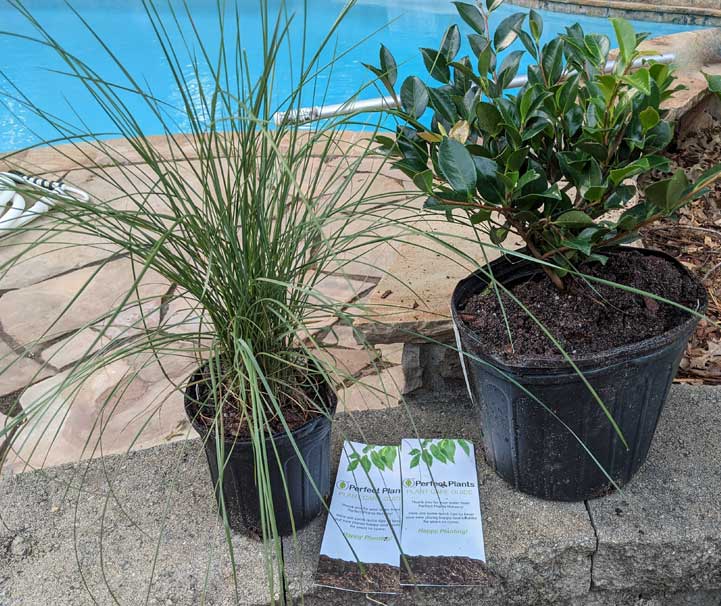 This is our third order from Perfect Plants Nursery at www.myperfectplantsnursery.com.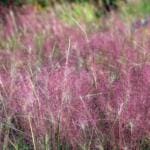 This time we ordered a 3-gallon ShiShi Gashira Camellia and a 1-gallon Dwarf Pink Muhly grass.  As usual, getting around on the site was super easy.  You can almost get lost clicking all the links and reading all the great information they have about planting and taking care of everything.
We've always wanted the ornamental grass.  The soft pink plumes will look great along a natural area that borders our pool.
We paid $58.99 for the Camellia and $29.95 for the Pink Muhly grass.  Shipping was a bit steep at $24.95. $113.89 total.
We ordered on a Monday, received an email ship confirmation email on Wednesday & the plants arrived on Saturday.
They came in separate boxes. That was surprising. I would have thought they could have saved a little money getting them both into one box.
Packaging was quite detailed. Bamboo stakes, customized poly bags & wet packing paper over the top of the container soil all helped ensure they arrived in great shape.  I'm not sure what the bamboo stakes (2 on the shrub?) are for. There doesn't seem to be much practical use for them and they were stabbed thru the poly bags. it took us a minute to think thru how to get the poly bags off until It finally dawned on us that we could simply pull the bamboo out before opening the poly bags.
I do like how they have little cut outs near the top of the boxes. It not only allows some air in the box for the plants but also makes it easy to carry. Use them like handles.
The grass box was a bit dinged but did not affect the plant inside.  The grass had a great root system.  The Camellia seems like it might have recently been potted up into a 3-gallon container.  There was more dirt than roots. Still, the quality of the plant was as good, if not better than what I could find locally. Not to mention you can't find the variety I wanted at local garden centers.
Perfect Plants remains one of our top online nurseries. As of our last update, they were ranked #6 in our top 25. You can view our top 25 online nursery rankings here. We also paid them a visit in April, 2021 and spent a few days visiting the staff & fields. They run a first class operation and are in the competent hands with the third generation of family owners. I anticipate big things from them in the near future.
MyPerfectPlants.com Unboxing Picture Gallery
Latest posts by Show me the green
(see all)